What's New
Posted on: Nov 27, 2018 at 12:25 PM
Happy Birthday Davis, and many more
Happy birthday Jan, more birthdays and fun to come Happy Birthday Young Man!
Posted on: Jul 11, 2017 at 10:29 AM
Happy birthday old neighbor
Posted on: Apr 29, 2018 at 11:50 AM
Happy Birthday Linda
Posted on: Apr 01, 2018 at 1:38 PM
Happy Birthday, Jerry! Best wishes for a wonderful day and year ahead.
Mary
Happy, Happy day for you Roddy, hope you and Martha enjoy your special day. Bet the nurses at St. Luke's miss you - maybe. Love and best wishes to you both,
Mare
HAPPY BIRTHDAY, TO ONE OF THE "YOUNGER" MEMBERS OF THE CLASS OF '62!! HOPE YOU CELEBRATE A GOOD ONE, SUZANNE,
BEST WISHES,
MARY BOYTER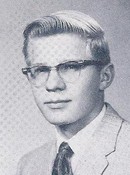 One of our classmates which I admired. I was the student assistant to the track team when Guy was breaking records in the 880. I read an account in the newspaper where a runner in the Boston Marathon had finished the race though his leg broke while in the run, his leg muscles being so stong that they held the bones together. Even before I read the name of he runner I knew it was Guy, he had such massive leg muscles. My condolences to Mary Nelle, Guy's family, and all of his many friends. Guy and I both were on the Pocatello High School Track Team together. I always have had great admiration for Guy, not only as an athlete, but as an outstanding person. He was real gentleman. I had lost contact with Guy over the many years, but after he published his book about his experiences when he actually walked the complete, original route of the Lewis and Clark Expedition, we reconnected. Guy was "one of a kind." He is, and will be, missed. Budd Kendrick, PHS Class of '62
Posted on: Nov 27, 2017 at 11:27 AM
Happy birthday Davis, hope you have many more
Posted on: Nov 15, 2017 at 11:27 AM
Happy birthday Janice Posted on: Jul 04, 2017 at 12:02 PM
HAPPY BIRTHDAY GUY! Budd Kendrick, Class of '62
Posted on: Apr 29, 2017 at 11:35 AM
Happy Birthday Linda